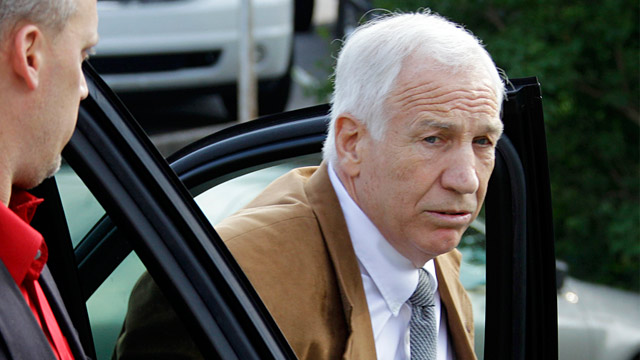 Jerry Sandusky, the former Penn State coach who was recently convicted of sexually molesting multiple children over a 15 year long time span, applied for a controversial verdict change in his first appeal to a higher court.
After losing in criminal court last month in epic fashion, Mr. Sandusky has decided to represent himself from here on out.
Although Sandusky's "Don't Judge Me" plea was considered representative of our time (and at one point seemed to be working), the case was thrown out after the judge remembered that he was, in fact, a judge.
The transcript of Mr. Sandusky's closing arguments is provided below:
"What are these words: Not Guilty?  Guilty?  Right?  Wrong?  If I am guilty, it is of merely living out the truth–the truth that there is no truth, there is no moral law and therefore no basis for this court's hypocritical verdict–a verdict that has been handed down by imperfect men no better or worse than me.
Have we forgotten that morality is a mere social convention?  Flowing, ebbing, and changing like the tides?  And aren't those who challenge social convention and push its limits held in esteem and said to be ahead of their time–like men standing up against the tide?
Now, I'm not here to overturn the entire judicial system (though one day I'm sure it will come to that); I am simply here to recall history and appeal to sound reason.  Let us not forget what kings and presidents have done and been allowed to do to serve their own interests: wars for resources and territory fought in the name of "democracy" or protecting national interests.  That is all I've done Your Honor–a small, necessary "evil" to serve (yes, my own interests) but also the greater good.  Should I be convicted only because I wasn't fortunate enough to be born a king or a president?
As for reason, are we not all dancing to the tune of our DNA?  To borrow the words of eminent biologist Richard Dawkins, "The (Jerry Sandusky) that you observe here today has precisely the properties that we should expect if there is, at bottom, no design, no purpose, no evil and no good; nothing but blind, pitiless indifference."
And so, Judge, in conclusion, let us not forget our sacred history in favor of the moment; let us not forgo sound principles in favor of mob mentality!  Let us not forget who we are!  That we are human!  And nothing more!  And that what I've done is simply that–not good, not evil–just human."